A group ofTwenty five staff from the Rwanda Social Security Board (RSSB) successfullycompleted the ICDL training certification of the seven (7) modules as it is inthe Project to train all the RSSB staff across the country.
KN 3 Rd African Union Boulevard, Kiyovu, Nyarugenge P.O Box 250/6655 Kigali-Rwanda Tel:+ 00 +00 +47 Email: [email protected] The Rwanda Social Security Board was established in 2011 after the merger of the Rwanda Social Security Fund that administered the Pension and Occupational Hazard schemes (1962), and the National Medical Insurance that administered workers Health insurance (2001). Rwanda Social Security Board KG 176 Street Kigali - Business & Services. Drive, bike, walk, public transport directions on map to Rwanda Social Security Board - HERE WeGo.
The modulescovered are Computer Essentials, Online Essentials, Documents, Cyber Security,Presentation & Online Collaboration.
The Rwanda Social Security Board (RSSB) has said that a new pension proposal will increase benefits for pensioners after months of protracted calls by pensioners to have their monthly benefits increased so that they can lead a decent life.
The Teamenjoyed the trainings and skills offered during the three weeks at ICDL Africa ATC.
The staff weredrawn from various departments such as Finance, Legal, Administration,logistics, and others.
During thetraining, the trainees shared a common interest of discovering the gaps on howthey all used to use Word Processing and Spreadsheets Applications in their dayto day activities. They all showed the thirst of mastering and discovering moreabout the spreadsheets as many of them use spreadsheets as their daily tool inthe service delivery.
From thetestimonies given by four (4) trainees, they all appreciated the difference inskills before the training and a major change after the training and that theskills gained will facilitate them in their job.
Emilienne NISHIMWE who works as a Receptionist &Logistics Support revealed how the ICDL certification will ease her work.
In her wordsshe stated "I am five (5) months old in RSSB. I use MS word and Excel in mydaily work. Hence, I have really enjoyed discovering deep technics and moreoptions available in both Word processing & Spreadsheets that I did notknow before. Pagemaker 7 windows 10 download. I have liked the Cyber Security & Online Collaboration modulesas well.
To be sincere,I invite other colleagues from RSSB who haven't sat for this training to do it asearly as possible and will witness the changes in terms of productivity intheir work.
Quinta BAKUNDA who works with RSSB as a Legal Advisor, said she had no clue about the importance of digital skills and did not know anything about it. She was very surprised with the Diagnostics given before the final tests.
I have beenattracted by the Presentations module and deep options in using the tool aswell as the many options available while using Word Processing Application.
She said "After covering the seven modules, I would like to proceed with Digital Marketing & Project Planning modules. I strongly recommend other RSSB staffs to sit for the ICDL Programme and invite ICDL Africa to continue making sure that the programme is delivered matching the standard.
I suggest thatfor such trainings, it will be great to include the IT officers from ourInstitutions to attend the Programme so that in case we go back to work, wewill be at the same page when it comes to the daily small technicalsupport/assistance since we all have attended together.
Lastly, I wouldlike to recommend that some ICDL modules are customized to the daily work in RSSB".
Cyprien Sebahinzi, a Medical Invoices Verification Officer, told us how, the same as his colleagues, he had no clue about ICDL and what it was all about. The time he heard of an opportunity to learn skills on how to navigate a computer deeply, he was very curious since in his daily work he uses Spreadsheets & Wod Processing applications.
"I have learnta lot on how to use Spreadsheets to make my life easier than the way I used to.I was very impressed by the Cyber Security module where we learnt to keep theconfidentiality of the data and Internet can be a source of information leakwhen it is not well protected.
If another occasionpresents, I would love to proceed with the Management Spreadsheet &Documents Advanced. I really liked the programme of sitting first for the diagnosticsbefore you proceed with the final exam.
At the end ofthe training, I am more confident and going back to my work with skills of howto navigate my computer without looking for help from the IT support even forminor issues.
I really thankmy Institution (RSSB) for the continuous support of investing more in thecapacity building for its personnel. A brief recommendation to RSSB & ICDLAfrica is to ensure that every RSSB Staff across the country trains andcertifies in the ICDL programme and if there is a way both partners could takeinto consideration conducting theadvanced modules training and certification for those who have finished theseven modules. In case there is any other new module launched by ICDL, RSSB shouldalso send its staff for the training.
Fecilien Nsengumuremyi, a Medical Benefits Verification Agent, joined the group of RSSB without having any idea about ICDL Certification. He only knew that digital skills do exist but was not sure where he could get suchtraining.
After coveringthe Documents & Spreadsheets modules, he realized the gap that was therebefore he joined the training.
In his words,Felicien wishes to add more modules tohis certification.
"After coveringthe seven (7) modules, I wish to pursue Digital Marketing and Project planning.The reason behind that is that I can use them even outside the workplace andget benefits from those skills.
Same us mycolleagues, we were all excited with this training and we had enough time tobrainstorm through the learning. A lot has been captured and within the timescope. It was my very first time seeing the presentation (PowerPoint) and I cansay that after the training I will be able to teach others.
I'm thankful tomy Institution (RSSB) to have allocated funds that help in strengthening thecapacity of the staff and same for ICDL Africa for the great skills offeredwith good environment and logistics put in place to make this happen.
Another intakeof twenty-five RSSB staff is expected to train and certify for the ICDL Programmein the next two months.
ICDL Africa extendsits gratitude to RSSB Management and staff for a strong and sustainablecorporation in promoting the Digital Literacy to the Workforce in Rwanda.
End.
Medical Insurance
Rwanda Social Security Board Official
In Rwanda, all Rwandans must be covered by a health insurance according to the law. RAMA, MMI and Community Based Health Insurance are the main schemes of medical insurance. In addition of those institutions, private insurance companies provide also health insurance products. The diversity of all those structures allows nearly a universal access to health care to the population.

Rwanda Social Security Board (RSSB)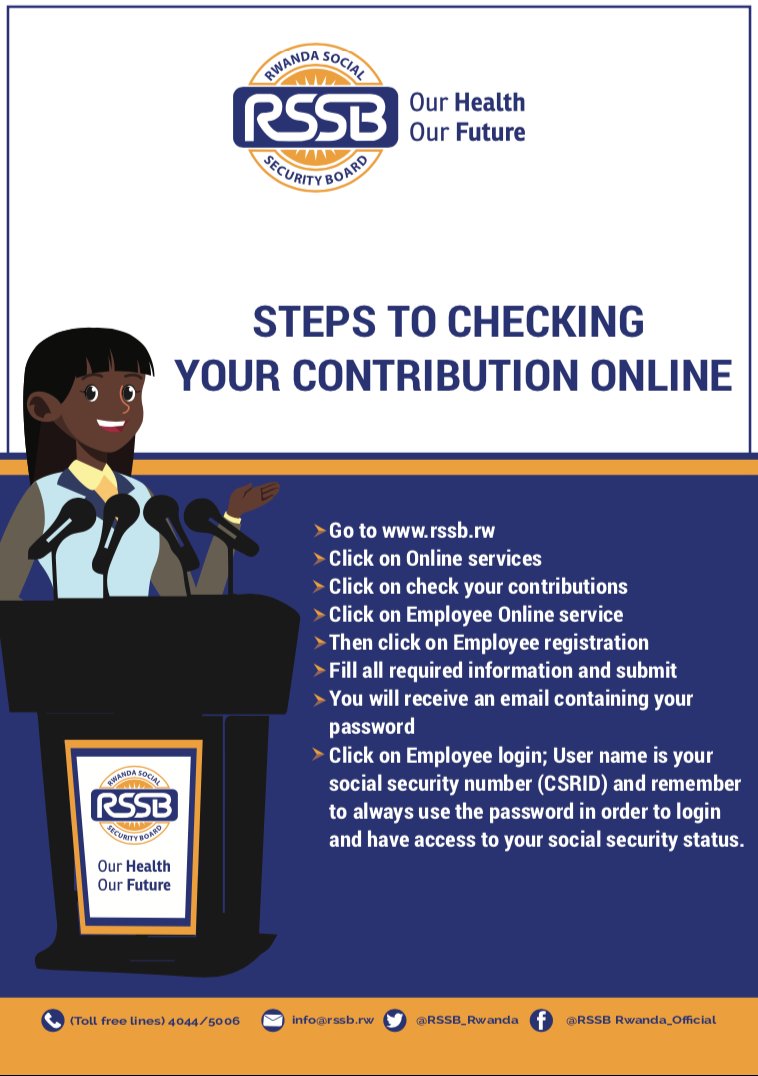 In 2009, the merging of the two main institutions of Social Security has been decided to establish the Rwanda Social Security Board. The RSSB is in charge of coordinating the services of the Rwanda Medical Insurance Scheme (RAMA) and the Social Security Fund (CSR or SSF).
RAMA (Rwandaise d'Assurance Maladie): RAMA manages medical insurance for employees of public and private sectors.
To know more about : http://www.rama.gov.rw/spip.php?rubrique2
SSFR (Social Security Fund of Rwanda): The Social Security Fund of Rwanda manages pension and occupational risk branches.
To know more about : http://www.csr.gov.rw/

Pension Branch
Pension benefits are provided by the Social Security Fund of Rwanda (SSFR), the public institution in charge of providing the social security schemes to workers.
Pension branch means to help workers when becoming old and incapable of working or invalid and incapable of earning his life. It also supports the survivors in case of a deceased worker (eligible survivors).
Law Establishing Rwanda Social Security Board
It aims to guarantee decent means of living to retired persons, in relation to their social security contributions made during their active period (proportional to number of years worked and wages earned). The contribution is paid partially by the worker and its employer (rate of 2% of the worker's remuneration). Workers qualify for old age pension when they reach the age of 55 years old and have contributed during at least 15 years.
When the duration of insurance is less than 15 years and the insured person has attained the age 55 years, the pension branch provides a unique old age lump sum.
To know more about pension branch : http://www.csr.gov.rw/spip.php?article7
Occupational Hazards
Occupational hazards benefits are provided by the Social Security Fund of Rwanda (SSFR), the public institution in charge to provide the social security schemes to workers.
It aims to support workers when they have a work injury or occupational disease. Victims of work accidents or disease are entitled to free medical care, daily sickness allowances, incapacity social security benefits, incapacity lump sum benefits or survivors allowances.
The contribution is made by the employer (2% of worker's remuneration).
To know more about occupational hazards branch: http://www.csr.gov.rw/spip.php?article20
Legal Framework
Rwanda Social Security Board (rssb)
Ministerial Order N° 03/19.19 of 27/7/2009 determining the modalities of facilitating persons with disabilities to easily access employment, (Official Gazette, 2009 & Ministerial Order N°.20/19 of 27/7/2009 determining the modalities of facilitating persons with disabilities access medical care, OG, 2009;)
http://www.primature.gov.rw/index.php?option=com_docman&task=cat_view&gid=74&dir=DESC&order=date&Itemid=95&limit=5&limitstart=20

Ministry of Justice, codes and laws of Rwanda: www.amategeko.net

Law regulating labour in Rwanda, OG, 2009:
http://www.mifotra.gov.rw/documents/Laws/NEW%20LABOUR%20LAW%20N13.2009%20OF%2027.5.2009.pdf

Law establishing Rwanda SSB and determining its mission, organization and functioning, OG, 2011:
http://www.primature.gov.rw/index.php?option=com_docman&task=cat_view&gid=114&dir=DESC&order=date&Itemid=95&limit=5&limitstart=5
Rwanda Social Security Board Annual Report
Regímenes de seguridad social y programas por rama